A Day to Remember 2019

Memorial Car, Truck, and Motorcycle Show
This year Freaks of Nature Las Vegas is proud to once again put on A DAY TO REMEMBER, the Memorial Car Show where we all get to celebrate the lives of the many friends and family we have lost in the car community. Originally, this show was started to celebrate the life of James "Chubbs" McKittrick.  He was a great member of the Las Vegas Freaks of Nature chapter and also a true member of the car/truck community.  We miss him everyday! A portion proceeds will go to benefit the 3 daughters he left behind.  Visit our about Chubbs page for more information about Chubbs.

During our Day to Remember we want everyone to remember those we have lost!  We encourage you to come out and spend the weekend…you know we will be rejoicing in our friends who have past every night we can.  You can book just one night, two, or have a nice vacation.

Please remember that this is a commemorative show celebrating the lives of those we have loved and lost and we would prefer not to schedule any life events during our show that would take away from the spirit of this event.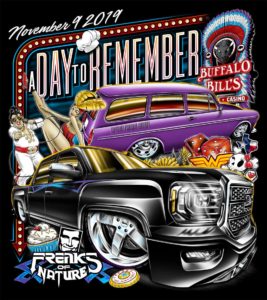 Details:
When: November 9th, 2019
Where: Buffalo Bills Casino at Primm, NV (Stateline)
Roll-in: 8 a.m. – 10:30 a.m.  The show will be open from 11:00 a.m. – 5 p.m.

Cost/Registration: $30 to pre-reg or $40 at the gate. Visit our Show Registration page to submit your pre-registration.
Rooms: The room code for Buffalo Bills is all set!
Call 1-888-386-7867 and mention room code: SSD1107 to be included in the group. $28 Thursday night, $64.00 (each night) Friday and Saturday plus 12.5 % tax. The resort fee is 18.00 per room per night which includes Wifi.  To check out the property and see the amenities, visit Buffalo Bill's website.

Trophies:

Event T-shirts: T-Shirt sizes will range from Small to 6XL.

Food Vendors: More info to come.

Other Fun: Raffles, DJ, Buffalo Bill's roller coaster, outlet shopping, on-site tram to other properties, refreshments available at the show, and full restaurants and bars available inside Buffalo Bills.  Evening Bands & other entertainment TBD.  We plan to bring even more activities during the show this year!
Once again adding a cruise to the Pioneer Saloon on Sunday.  Great food, Bloody Marys, and band TBD.


Facebook: Follow this event on Facebook for the latest news!

Questions: Feel free to e-mail us with any questions.

Donations/Sponsors
We are currently accepting donations for raffle prizes and looking for sponsors.  For more info on our sponsor packages, please visit our show sponsor page or e-mail us.